NEW RELEASE: JUN Custom Kit EX 2.8L for RB26DETT
2010/07/23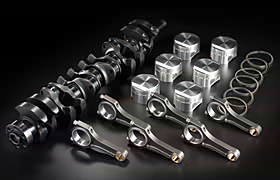 JUN Machine Shop has added new Custom Kit EX 2.8L for Nissan Skyline GT-R RB26DETT engine. Now it is on sale.
This custom kit became 2.8 liters by forged aluminum pistons, I-beam connecting rods, and stroker crank shaft which was developed newly. The torque at middle low speed will increase because the stroke was extended in 78.0mm compared with 73.7mm of the stock stroke. And, will accept very high rotation because the crank shaft which was made from billet material has high balance rate.
We can recommend the Custom Kit Basic 2.7L already on the market if you want to build the spec of more high rotation engine.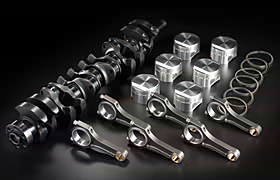 JUN Custom Kit EX 2.8L for RB26DETT
NAME
JUN Custom Kit EX 2.8L RB26DETT
VEHICLE
NISSAN SKYLINE GT-R (BNR32/BCNR33/BNR34)
ENGINE
RB26DETT
SPEC
BORExSTROKE: 87.0mm x 78.0mm
Engine Disp.: 2782cc
Compression Ratio: 8.4:1 (1.6mm Gasket)
MSRP
JPY787,500 yen
SALES
on sale
RELATED LINK
newproduct
engine-part
stroker-kit
GTR
---
The price is not including domestic consumption tax when it does not display particular comment.
Tax-inclusive price on display is denoted by the domestic consumption tax rates (5%) of those days which published the article.
The price does not include the installing labor fee, shipping cost, and so on.
We may change a price and the specifications without a notice for improvement.