NEW RELEASE: Universal Front Diffuser - Carbon type
2017/09/06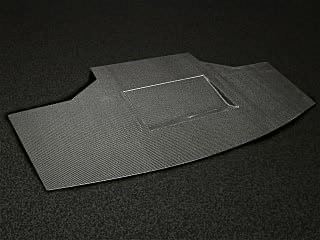 JUN Machine Shop has added a Carbon Front Diffuser for various vehicle. Now it is on sale.
This front diffuser has an air pocket in central part amplifies incoming air from bottom of front bumper temporarily and the compressed air quickens speed, and it is drained behind your vehicle. Strakes before front wheels reduce turbulence by the tires, and the air deflects to center of vehicle. The quickened air makes down force occur through bottom of vehicle. Moreover by the type of vehicle, this diffuser has effect which lowers water and intake temperature because it pulls out heat from engine room.
CARBON FRONT DIFFUSER
PRODUCT
JUN Front Diffuser Carbon
VEHICLE
Various Vehicle
MSRP
JPY90,720yen
NOTE
The carbon products are painted a clear coat.
You need to cut the diffuser according to form of your car (front bumper)
RELATED LINK
---
The price is not including domestic consumption tax when it does not display particular comment.
Tax-inclusive price on display is denoted by the domestic consumption tax rates (8%) of those days which published the article.
The price does not include the installing labor fee, shipping cost, and so on.
We may change a price and the specifications without a notice for improvement.